Subscribe in a reader
Another bonus in my life is the opportunity to see the beauty of Singapore.

What is Singapore? Where do you find Singapore?
Singapore, officially the Republic of Singapore, is a Southeast Asian island city-state off the southern tip of the Malay Peninsula, 137 kilometers north of the equator.

Wikipedia
Weather:
33°C, Wind S at 6 km/h, 55% Humidity
Awards:
Top Intelligent Community of the Year
Official language:
English Language

,

Malay Language

,

Tamil Language

,

Standard Mandarin
Population:
5.184 million
The group of private teacher most of them from Holy Cross of Davao College left Davao City , Philippines April 15, 2013 afternoon in order to catch the early flight to Singapore on the following day via Sea-air.
"This is the day that the Lord has made. we will rejoice and be glad on it".

We were all glad and happy roaming around Universal Studios in Singapore. Oh what a gift of journey from the Lord. It just on the first day ... marami pa. ( lot more places)
Where are we? Ah, at the Garden by the Bay.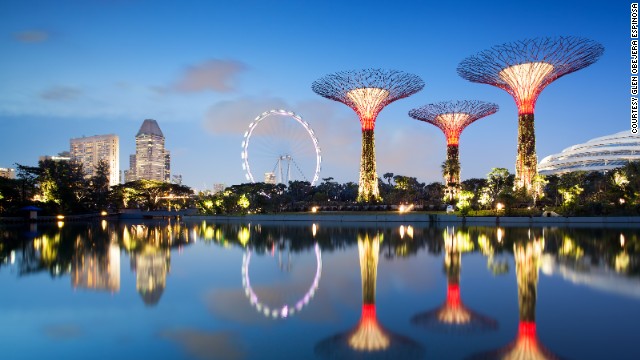 This is a place where we can reflect God's wisdom and knowledge bestowed to human being. A cluster of 18 artificial trees almost 16 stories in height, are scattered throughout Singapore's Gardens by the Bay.
In this bridge we passed by heading to towards the artificial trees. Jonas is our good guide from LRT up to this place
. Thank you oh God for the safe and sound trip to Singapore!